Top SEO agencies in comparison
After the publication of our visibility study in the past three years, we have made it our task to publish an agency ranking again this year - albeit in a slightly different form than in the past (more information on this further down in the article).
Because for companies, the search for the right SEO service provider is a challenging task: the choice of providers is huge and there is often a lack of specialist knowledge to actually be able to evaluate both the offers of the SEO companies and their performance . The consequences are often non-transparent services and dissatisfied customers.
Therefore, as a company looking for a service provider, you are welcome to use our top 30 ranking as an introduction to agency research, but also include other factors such as references and, of course, personal discussions in your decision. If you don't find what you're looking for in the agency ranking, a look at our full listing of SEO agencies can also help.
Top 30 ranking: Germany's top SEO agencies on Agenturtipp.de
But who is one of the winners of our study? best companies digital marketing from Kolbermoor, which achieved the highest points in all of our three evaluation areas and thus earned the title of agency winner, got on the podium and thus in first place .
Onlinemarketing-Strategen.de GmbH from Rosenheim and search engine brokers GmbH from Dortmund also follow in second place . Just missing the podium with a still excellent 4th and 5th place are morefire GmbH from Cologne and Seokratie GmbH from Munich.
Below is a list of the 30 top SEO service providers in Germany from the more than 1,000 agencies examined . We congratulate all agencies on this excellent achievement!
Top agencies come mainly from North Rhine-Westphalia and Bavaria
This year, too, we have addressed the question of which federal states are particularly well represented in our agency ranking. With eight agency winners from Bavaria and seven from North Rhine-Westphalia, exactly half of the top agencies come from just two federal states . Baden-Württemberg, Lower Saxony and the federal capital Berlin each have three agency winners. In 7 of the 16 German federal states we could not find any top agency.
If you look at our top SEO service providers according to their number of employees, there is no clear picture: both small agencies with 1-5 employees (20%) are represented in our ranking as well as agencies with over 50 employees (16.7%). Medium-sized SEO providers with 6 to 50 employees make up the larger part (63.3%).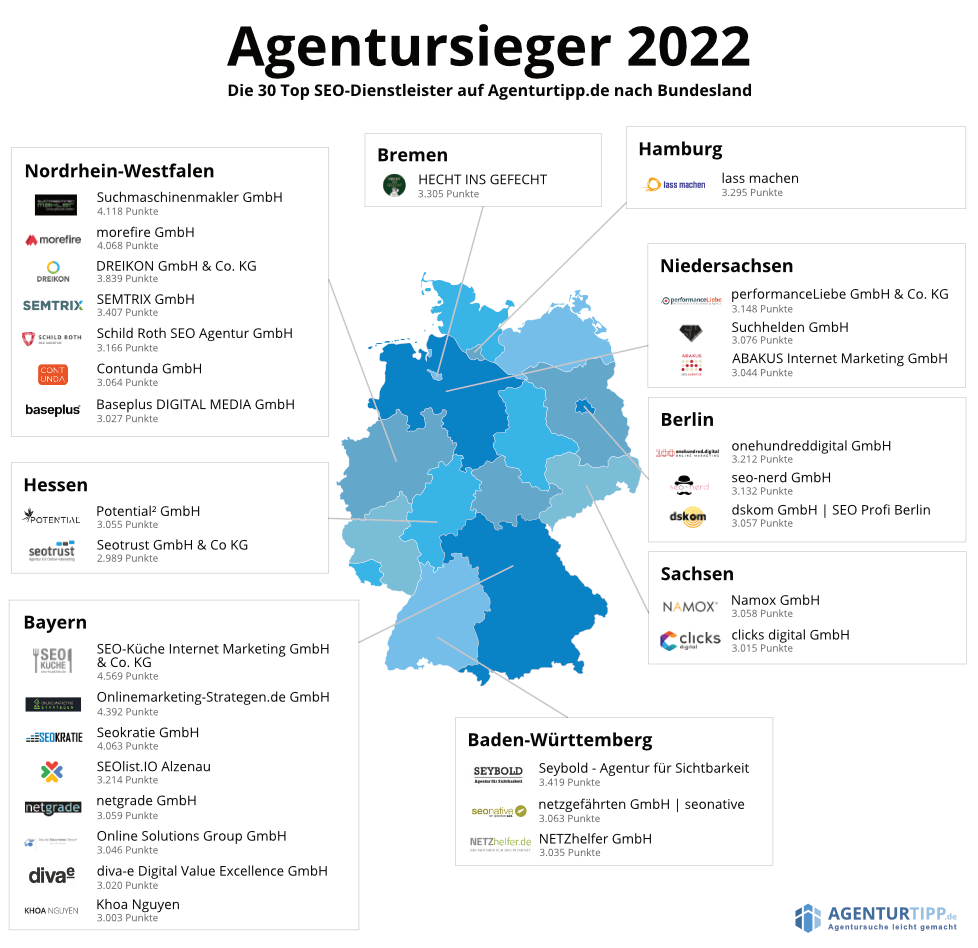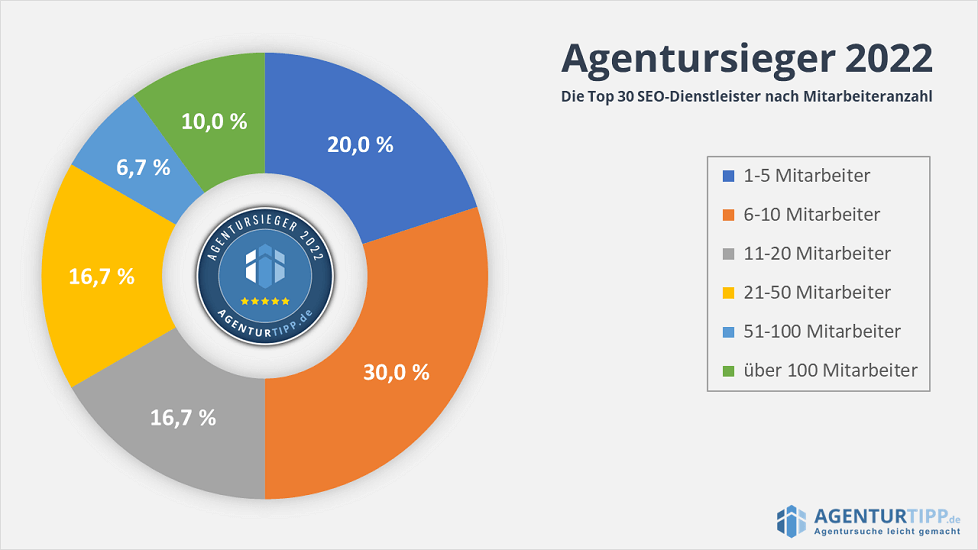 Our award as agency winner for the top 30 service providers

All SEO service providers who made it into the top 30 can now use our award as Agency Winner 2022 . It is only awarded to agencies that have been among the top 30 agencies on average in our annual agency ranking over the past calendar year. The seal and instructions for use in marketing are already on their way to the winners by e-mail and post.
Procedure for calculating the agency ranking
After we had regularly announced the visibility winners among German SEO agencies in recent years, this year we decided to take a different approach when calculating our agency ranking.
Although the Google visibility of agency websites still plays a role, this has been expanded to include the two evaluation criteria "SEO certifications" and "agency ratings". The weighting of these three criteria for the overall ranking is as follows:
Reviews collected via Agenturtipp.de (50%)

SEO Certifications Received (25%)

Google visibility of agency domain (25%)
Agency ratings, which any service provider who has verified their entry free of charge on Agenturtipp.de, can collect, are included in the ranking both quantitatively and qualitatively .
In the area of ​​certification, the SEO quality certificate and the Code of Conduct (SEO) of the BVDW are used. The SEO quality certificate is weighted higher than the signing of the Code of Conduct (SEO), since the latter is only a matter of a voluntary commitment by the agencies and no detailed check of the agency's performance is carried out.
The Google visibility of the agency domain is based on a keyword set of around 620 keywords and is evaluated in cooperation with the Cologne-based tool provider Pagerangers.
All three evaluation criteria were collected weekly for all agencies in the past year and an average value was determined at the end of the year , which can be found in the table above. Partner agencies from Agenturtipp.de with paid accounts are of course not preferred when calculating the ranking - all SEO service providers have the same chances. A detailed explanation of the ranking calculation can be found here .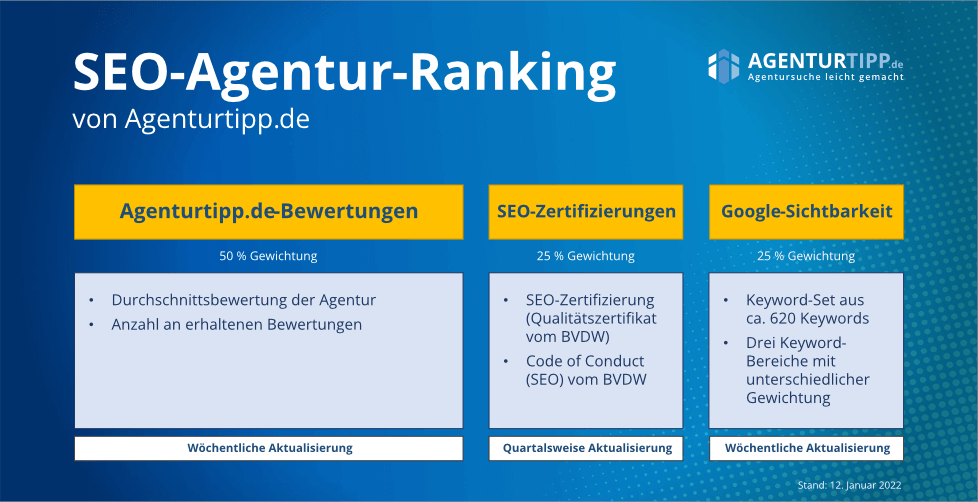 Important change for our ranking in 2023
Our domain change from SEO-Vergleich.de to Agenturtipp.de in the middle of last year meant that online marketing service providers who do not offer search engine optimization as a service can also be listed on our portal. Therefore , from next Wednesday (01/25/2023) it will be a new requirement
to be listed with us in an SEO category or a category close to SEO (e.g. content marketing) OR

having stored "search engine optimization" as a service in the agency profile,
to continue to be displayed in the agency ranking.
For security reasons, we therefore recommend that all partner agencies log into the admin area and check and update the stored services . Agencies that are listed free of charge with a verified entry on Agenturtipp.de can also deposit individual services in a newly set up admin area. To do this, you need to log in using the login link . SEO service providers who have not yet verified their entry are advised to verify their profile free of charge so that they can continue to be placed in the agency ranking.
About Agenturtipp.de
As a neutral comparison portal, we support companies in finding a suitable marketing service provider. With a transparent and comparable agency representation, we help the agency search on the way to more customers, higher visibility and a strong brand. Behind the platform are the two brothers Christopher and Alexander Walz, who are agency experts and have already successfully founded several startups.